The name "Living Symbols" refers to how images and ideas naturally change and adapt. When we work with cards we're dealing with a complex blend of the history and teachings associated with those images. We also bring our own perceptions and ideas about what we might need from those symbols right now.
In creating the Living Symbols Lenormand I wanted to find that balance. To be able to find wisdom in tradition, but without having to be stuck or limited by that. Rather than diluting what was already there, there's a lot of richness in thinking about tradition as something alive and evolving.
What has been preserved
The Living Symbols Lenormand can be used like any other Lenormand deck and follows the common 36-card structure. As is common for Lenormand decks, it's available in two sizes. The larger poker-sized deck includes card name labels that can be helpful when learning. The mini-deck is recommended for reading a full 36-card grand tableau. Both versions include numbering and playing card inserts for easy reference.
I used simple and practical images, unified with a low-poly visual style. It was most important to me simply that the symbols be unambiguous and able to be recognised quickly. The shapes all have clear and distinct silhouettes without distracting background scenes.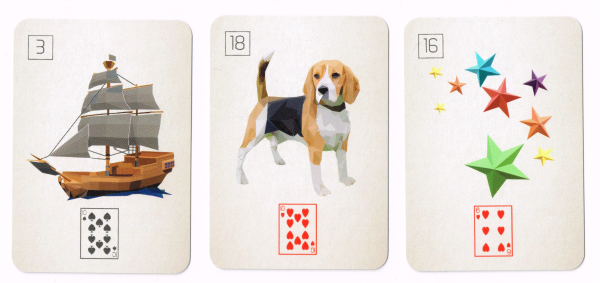 Without any clutter, the subject of a card should be immediately obvious. The ring is just a ring, not a tiny band on someone's hand. There aren't any confusing additions to the cards. The only place you're going to see a moon is on the moon card, and so on.
Some common conventions are included: the clouds have a dark and a light side, and the coffin has a pall at one end. There are two versions of the birds card depending
on the system you prefer: the birds or the owls.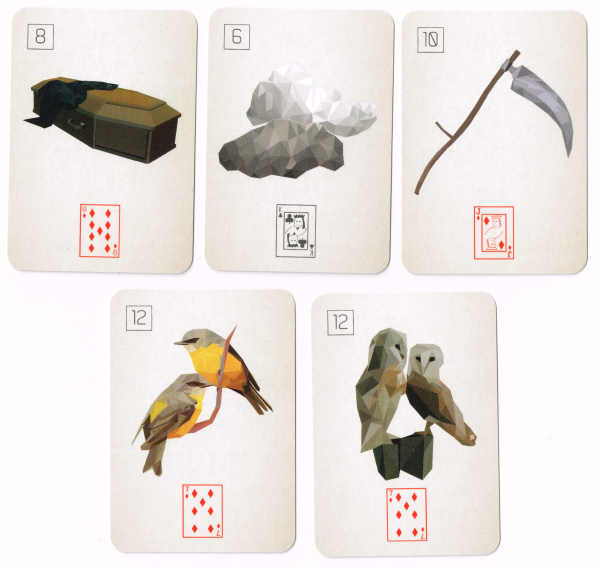 What has been changed
The biggest hurdle for me personally in approaching Lenormand was old-fashioned gender roles. Traditionally, Lenormand decks contain one man and one woman card,
appropriate for a monogamous, heterosexual view of romance. Or perhaps worse, gentleman and lady cards, which imply ties to a specific class and culture.
Modern decks often include multiple copies of these significator cards to allow for same-sex romantic readings. This still doesn't help much for anyone who falls outside the gender binary. I can't choose any of these cards to represent me and feel great about it, and that's also true for many people I know. If I want to feel comfortable with Lenormand, at a bare minimum I'm limited to decks with non-standard additional cards I can adapt to my own purposes.
The Living Symbols Lenormand doesn't do away with the man and woman cards entirely. These are still how many people think of themselves, after all! But card number 37 is the 'person' card: suitable for non-binary and gender-variant people. Or really, anyone who would prefer not to be categorised by gender. I've also made an effort to incorporate racial diversity, giving a range of man, woman, person and child cards to choose from.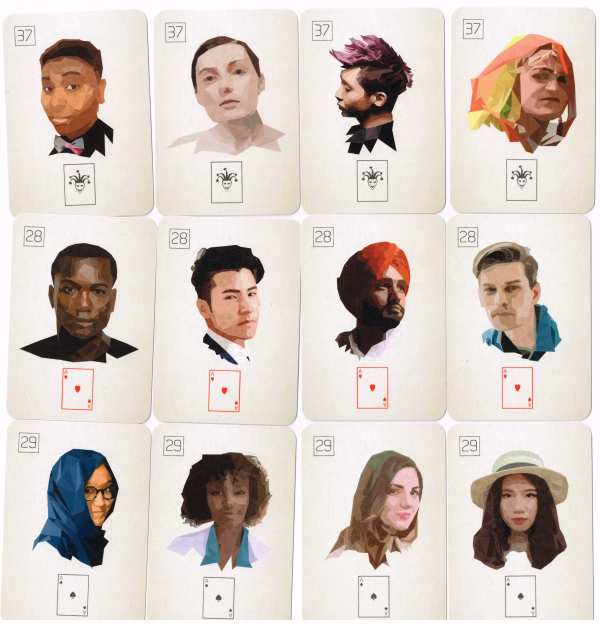 Of course, it's impossible to represent everything in one deck of cards. I'm not trying to pretend everyone can find their exact match among the cards I've assembled. I want to openly admit that any choice I could make would be loaded. There's no neutral option when choosing a symbol to stand in for a person. The hope is that people can at least choose a significator they're comfortable with.
The first three person cards of the deck are statues that represent classical images of male, female and androgynous beauty: Michelangelo's David, the Venus de Milo, and an angel. These are unavoidably flawed symbols. In reality, the body does not define our gender or sense of self, and these idealised forms are far removed from real people. The angel's wings are no more unreal than David's perfect chiselled abs.
For better or worse these images are used as stand-ins for an idea. They are tied up with how people think about identity and give a more abstract option for people who appreciate that. But if the presence of a penis or breasts is a problem for anyone (or the use of an idealised form in general), there are other choices available.
Nothing can please everyone, so the best I can offer is to acknowledge these limits and provide some choices.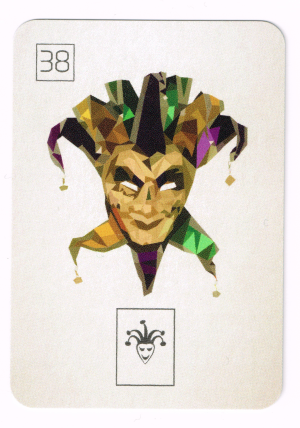 At the end of the deck is a final addition: card number 38, the wildcard. It's my way of allowing for all the chaotic and individual factors I can't possibly predict. It's the freedom to adapt and take on new masks as needed. As with all my additions, it can be incorporated in any way you like, or just left out.